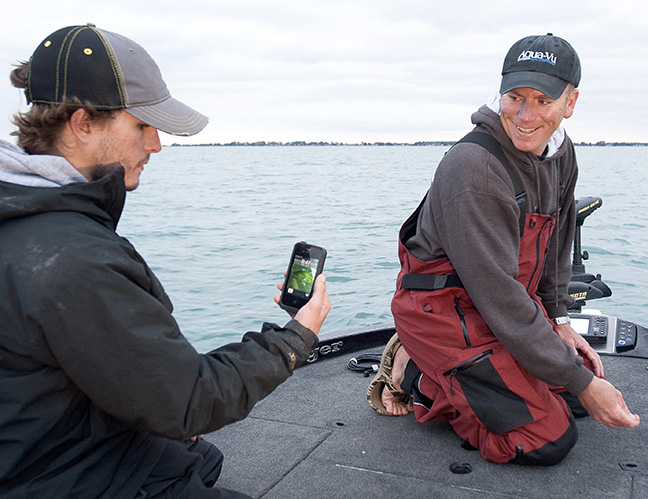 Aqua-Vu Unveils Truly
'Immersive' Underwater Fishing App
Intuitive AV Connect System goes wireless, mobile, and socially interactive
Crosslake, MN (June 12, 2017) – Don't be surprised when your smartphone goes full A.I., 3D and solar powered—all at once. Or when your device lets you interact with lifelike holographic images. Or when something called 'augmented reality' endows your phone with Star Trek Tricorder powers, scanning, analyzing and enhancing anything in your world.
If you're a mere Earthling-angler, you're just happy your phone lets you to stay connected with fishing buddies and the latest hot bite. That weather app on your phone's pretty handy, too, informing you when that t-storm on the horizon's about to rain on your parade.
But until your phone acquires artificial angling intelligence and tells you exactly where to cast next, a new app called Aqua-Vu Connect just might be the most fun you can have outside of battling a big bass.
Aqua-Vu, the leading-edge underwater camera company, recently uploaded the radical angling app, as well as a matching mobile underwater viewing adapter. Aquatic technology has gone ultramodern, streaming live Aqua-Vu video on your wireless devices, no matter if you're fishing an urban reservoir or a wilderness lake without Wi-Fi for hundreds of miles.
"AV Connect is both an intuitive app and a wireless underwater camera device that creates its own Wi-Fi hotspot," says Aqua-Vu president Ben Gibbs. "There are hundreds of thousands of Aqua-Vu cameras in the field. So we engineered the AV Connect System to interface with any existing underwater camera or brand equipped with an RCA video-out connection."
Available for free download for iPhone, iPad and Android devices, the AV Connect app streams live Aqua-Vu or other underwater camera video live. The intuitive app also allows users to record live video clips or still photographs, instantly stored in the phone or tablet's photo library, where they can be uploaded to Facebook, Instagram, Twitter and other social media.
Featuring a credit card sized video module, the AV Connect™ Universal Wi-Fi Adapter includes an RCA Video Out cable/adapter and 12v battery connections. The efficient video module connects to and can be powered either by the underwater camera's internal rechargeable battery or an auxiliary 12-volt battery. Set up takes mere minutes to complete.
"AV Connect adds a whole other level of interactivity to underwater viewing," Gibbs affirms, "Anyone with a phone within about 25 feet of the video module can share in watching what's happening below. If you're in the boat or on the ice with a couple buddies, everyone can watch what's happening below the surface, at the same time—all on their own handheld devices."
AV Connect Applications:
Record exciting underwater footage and text, Tweet or email it to friends.
Remotely monitor tip-up and deadstick lines while ice fishing inside a shelter – link to multiple underwater cameras with the same device.
Monitor real-time video feeds from underwater "trail cameras" set under boat docks, brush piles or while ice fishing.
Network and link to an underwater camera from anywhere in the boat.
Use an Aqua-Vu Mo-Pod to pan a remote underwater camera and watch the action on your phone.
Record underwater footage of a hotspot, send to friends and link footage to a GPS coordinate.
"Now, anyone with a smartphone and an underwater camera can immediately view, record and share their subsurface discoveries," Gibbs reports.
Available to consumers now, the Aqua-Vu Connect Universal Wi-Fi Adapter (MSRP – $149.99) works with any RCA video-enabled underwater viewing system or camera brand. To download the free AV Connect app, visit the App Store for either Apple or Android products.
For a limited time, the Aqua-Vu Connect System can be purchased for a special intro price of $99.99, by visiting www.aquavu.com.
About Outdoors Insight, Inc.
Creator of Aqua-Vu, the original Underwater Viewing System, Outdoors Insight, Inc. has led the underwater camera category in design, innovation and quality since 1997. The Central Minnesota based company builds many popular outdoors products, such as the iBall Trailer Hitch Camera (iballhitchcam.com) and Odor Check Moisture and Odor Control System (odorcheck.com) featuring Scent-Lok Technology. For more information on Aqua-Vu, visit www.aquavu.com.
POSTED BY TRADITIONS MEDIA
CONTACT:
Cory Schmidt
Traditions Media, LLC
cory@traditionsmedia.com
218.821.4148
Noel Vick
Traditions Media, LLC
noel@traditionsmedia.com
612.708.7339