CARP DREAM LAKE & MIŠEL ZADRAVEC
If you want to consolidate fishing for carp and grass carp, premium bait and a good atmosphere, then you definitely have to visit Carp Dream Lake …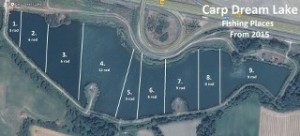 Mentioned lake, if we come from Croatia, is relatively close to the border with Slovenia in Mursko Središće. The size is about 16 hectares and it is located about 1.2 km from the Slovenian border in Hungary. After the willage Pince, yoou will enter to Tornyiszentmiklos, where you must cross the highway and than you will see a lake which is intended for C & R fishing …
The lake is rich with carp (several species) as well as catfish, it is not too deep but it is quite wide and open. The fish will give a lot of fighting, because there is room to maneuver. The lake is stocked with capital specimens of carp, weighing from 15-50 pounds, while most of them are about 25-40 pounds. Often, you can catch fish that reside in the lake from earlier times, so there are many surprises. In November 2010, at this lake, Hungarian national record was caught, for scaly carp and it weighed 82,33 pounds. The lake has arranged 12 places for fishing, 3 of them with a capacity of 3-4 fisherman, while the remaining 9 with a capacity of 2 fisherman.
For fishing, reservation is required. Owner of the lake, Mišel Zadravec is always available on his cell phone +386-31-392-400, or by e-mail misel.zadravec@gmail.com. As for fishing equipment, following is required: carp mate, a large landing net for fish and antiseptic.
Without rods you can not catch fish, so they are also required and as for carp bait, you can get them (buy) from the lake owner Mišel.
Now you must be wondering what kind of bait Mišel sales?! So let me explain …
Mišel Zadravec, owner of Carp Dream Lake is also the owner of a small factory, which produces bait for carp fishing, named Michelle Zadravec Carp Baits. At the same time, he is the owner of the fishing equipment store.
Since I am not a carp fisherman, I can not talk about carp baits, and certainly will not write about something I do not know. But I have colleagues who fish for carp, and they said that Mišels baits are excellent. So most fishermen, when fishing at Carp Dream Lake are fishing with baits from Mišels factory.
Looks are deceiving, I always say … When you meet Mišel, definitely you won´t be sure that he is the owner of the lake, factory and a shop. Why ?! His hippie look is here to intrigue you, but after a few minutes of conversation and fun you'll realize that Mišel is very simple man, accessible to people, and he is not hiding his knowledge of carp fishing which he poured into his laudable baits. Mišel is for many years engaged in fishing for carp, distant 1991, with several colleagues he made the first boilies, with them they devastated local lakes. Every day, technology is advancing, but when he started to put bait on a hair, people were astonished seeing him doing that, and later, when they saw that he released fish… That was the show!
But all this was just a prelude to a rich career of this carp fisherman, and his career is impressive. Mišel is one of the best known carp fisherman in Europe, who caught more than 100 carp weighing more than 40 pounds and he was fishing for them in different countries and on different types of water. Tv channel "Fishing and Hunting", made a report about him, which was aired by the program of Duna TV in Hungary, Slovakia, Romania and of course Slovenia. Last year he ended season with carp weighing 75,77 pounds, which had been a longtime goal, at the same year, he caught 3 carp with more than 55,5 pounds, which is also result for the highlight.
It is hard to say, is it reason for Mišels success in his baits recipe or in his experience, but Mišel likes to point out that in the production he is not alone, he has a team of experienced testers as well as his wife and two sons, who are his support in everything and because of this, he says, it is near perfection.
Why are his baits exported to several countries in Europe and the list is constantly expanding, it is best for you to decide for yourself. As for distributors list and all other information you can found on Mišels website http://www.misel-zadravec-carp.si/ or ordered through his web-store.