COSTA – from the fishermen, for the fishermen!

"COSTA – from the fishermen, for the fishermen!" said Chas MacDonald, president of Costa Sunglasses, during our interesting conversation at EFFTEX last year. This is the motto under which the partners set out to create, today, the best fishing eyewear…
Back in 1983, a group of enthusiasts, during the testing of its possibilities and their fishing equipment in the trips around the world, came to the conclusion that eyewear that they used during their fishing excursions are not up to the extreme conditions that are required. Eye protection is the first and fundamental condition for fishing, because you have to cut glare to better perform and also spot fish. The same goes for all outdoor activities and therefore we need maximum eye protection. They realized that any eyewear, which at that time existed in the market, didn't meet these conditions, of course with resistance to extreme weather, so they decided to make their own brand of eyewear.
And Costa Del Mar was born!
And so today, after 33 years and countless adventures around the world, the Costa Sunglasses goal has remained the same, to make the clearest lenses on the planet, for many new adventures to come…
As the leading manufacturer of the world's clearest polarized performance sunglasses, Costa offers superior lens technology and unparalleled fit and durability. Still handcrafted today in Florida, Costa has created the highest quality, best performing sunglasses for outdoor enthusiasts.
The offer currently comprises around 58 different frame models, with up to 4-5 colors per frame, all together about 59 frame colors. Frames are made of bio resin nylon and aliation of metal called Monel. Some frames feature a rubbery component called Hydrolite, this material becomes stickier as you sweat preventing slippage during movement.
They offer six lens colors that range from low-light like dawn to extremely bright light. All Costa lenses have 100% UV blockage for maximum protection and 100% polarization to kill reflected glare.
Their 580 lens technology goes beyond polarization, stopping yellow light at his highest peak, 580 nanometers increasing color contrast to produce the clearest lenses on the planet.


Also, 580 lens technology is available in prescription eyewear. The lenses are made of mineral glass or plastic and are resistant to scratches.
I was skeptical about scratching, so Chas demonstrated it on a fairly realistic way, he took the glasses that I chose in the window and he started to scratch the glass lens with the car key… Their mirrors are encapsulated so you can't peel them off.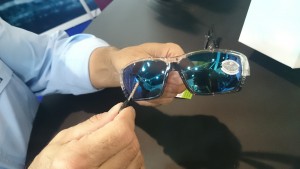 Costa sunglasses are made with the clearest lenses in the world, intended to be worn by people who enjoy life outdoors on or by the water. This fact emerged saying that the Costa was born on the water, it is inspired by water, water is their goal, and besides all that, Costa want to protect the water. For Costa, conservation is all about sustainable fishing. Many fisheries that should be vibrant and healthy are all but devoid of native fish because they have fallen victim to poor fishing practices, unregulated development, lack of watershed protection or all of the above. Costa works with partners around the world to help increase awareness and influence policy so that both the fish and fishermen of tomorrow will have healthy waters to enjoy. Costa encourages others to help in any way they can.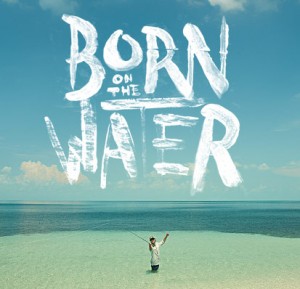 What else to say about Costa Sunglasses?
Simply… They are THE BEST!
Last year in Warsaw, at the EFFTEX, Costa Sunglasses received an award for innovation, which testifies about how much they invest in innovations and care of every aspect during the development.
Jenny Gordillo, their manager for export, was the one who proudly accept the award on behalf of the team Costa.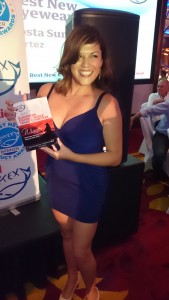 Once again I congratulate them, because they are doing an excellent job!
Here you can see the top quality which Costa offers: https://www.costadelmar.com/
As I live in Croatia, which is a country with a large amount of water surface, freshwater or sea, a large number of people are involved in fishing or engaged in water sports, or just prefer outdoor in general.
So I just have to make it clear to all who are interested in this high quality eyewear, that Croatian distributor for Costa Sunglasses is Maguro Pro Shop. At this store you can get all the information about these unique eyewear, you can buy them or if you want, you can order a specific model from a rich assortment of Costa. Contact information about Maguro Pro Shop can be found at the bottom of the article, while from their extensive range, you can choose high quality products for any type of fishing, because they are leading "advanced fishing store" in Croatia, as they like to say.
Costa Sunglasses distributor for Croatia:
Maguro Pro Shop
Savska cesta 182
10000, Zagreb
+385 1 6191 775
Compiled by Nenad Ujlaki